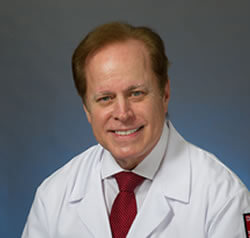 Dr. Robert J. Snyder received his Doctor of Podiatric Medicine from Manhattan's New York College of Podiatric Medicine in 1975. To augment his degree, he completed coursework in Clinical Nutrition at Florida International University in Miami, FL and later received his Master of Science in Wound Healing and Tissue Science from Cardiff University at the University of Wales School of Medicine UK, where he remains an Honorary Senior Lecturer at their Centre of Medical Education. Dr. Snyder also holds a Master's of Business Administration with a concentration in Health Care from The George Washington University in our nation's capital.
Dr. Snyder is a designated Certified Wound Specialist physician from the American Board of Wound Management, is a Diplomat of the American Board of Podiatric Surgery, and a fellow of the American College of Foot and Ankle Surgery. He has served as Professor and Director of Clinical Research at Barry University School of Podiatric Medicine since 2011. Dr. Snyder is past President of both the Association for the Advancement of Wound Care and the American Board of Wound Management. He also acted as Director of the Fellowship Program in Wound Healing and Clinical Research at Barry University. He is a member of the Academy of Physicians in Clinical Research and the American College of Healthcare Executives.
Dr. Snyder has been principal investigator on more than 60 randomized-controlled trials regarding innovative wound healing therapies and has worked with Johnson & Johnson Wound Management Worldwide, Systagenix, KCI, Integra, Novartis, and Pfizer Pharmaceuticals among others in this regard. He has published more than 165 peer-reviewed and trade journal articles in The Lancet, Wounds, International Wound Journal and Advances in Skin & Wound Care among others and currently serves on several editorial advisory boards. He is currently Associate Editor for the Journal of The American Podiatric Medical Association. Dr. Snyder has received numerous awards including the Dr. Robert Warriner Memorial Award for Excellence in Wound Management and the SAWC Founders Award for his work in wound management education and research. Dr. Snyder was recently inducted as a Faculty Fellow in Podiatric Medicine, Royal College of Physicians and Surgeons (Glasgow).