Cherison Andrew Cuffy, DPM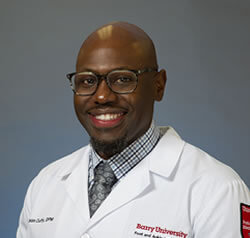 Dr. Cherison Cuffy received his Doctor of Podiatric Medicine degree in 2006 from the Temple School of Podiatric Medicine in Philadelphia, PA. He is a Certified Wound Specialist and Diplomat with both the American Board of Podiatric Surgery and American Academy of Wound Management. Dr. Cuffy is also a member of the American Board of Foot and Ankle Surgery. He is Board Certified in foot surgery and serves on the Credentials and Qualifications Committee at University Hospital in Tamarac, FL.
Dr. Cuffy has worked as a Faculty Physician at the Wound Care and Hyperbaric Center at Coral Springs Medical Center in Coral Springs, FL and at the Wound Care Center at University Hospital in Tamarac since 2010. He has been working with Barry University's Clinical Research team since 2014. The doctor has been published in multiple journals, including Podiatry Management and Current Dialogues in Wound Management, and has participated in research projects, including Phase-3 studies. His current hospital affiliations are University Hospital, Jackson North Medical Center, Northwest Medical Center, and Coral Springs Medical Center. Dr. Cuffy is on the editorial review board for WOUNDS and Wound Management and Prevention.