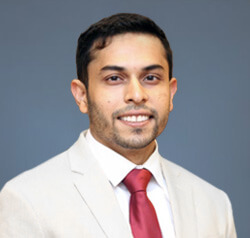 Dr. Ahmed is a Florida native, who grew up in Boca Raton. He attended Florida Atlantic University, graduated in 2012 with a Bachelor of Science in Biology and Chemistry, and in 2016, he received his Doctor of Podiatric Medicine degree from Barry University's School of Podiatric Medicine. Dr. Ahmed went on to complete a three-year residency program in Foot & Ankle Surgery at Palmetto General Hospital in Miami, FL.
Dr. Ahmed's special interests include surgery, limb salvage, charcot reconstruction, and research. His participation in volunteer projects has taken him all over the world, and his skills have proven to be incredibly valuable during mission trips to Mexico with the Yucatan Crippled Children's Project, Steps of Life Foundations in the Dominican Republic, and Project Medishare in Haiti.
Dr. Ahmed is affiliated with Woodmont Hospital, Broward Health (Coral Springs and North Broward), Westside Regional, and Northwest Medical Center in Broward County. He also performs surgery at Jackson North and Palmetto General Hospital in Miami.