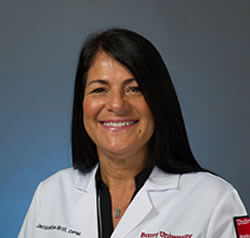 Dr. Jacqueline M. Brill, a South Florida native, graduated Magna Cum Laude from St. Thomas University in Miami Gardens, FL with a Bachelor of Science. She later received her Doctor of Podiatric Medicine from Barry University's School of Podiatric Medicine in 1995. She completed her residency at Cedars Medical Center and is a Board Certified Diplomat at the American Board of Foot and Ankle Surgery. Dr. Brill is also a fellow of the American Academy of Wound Management and the American College of Foot and Ankle Surgeons.
Dr. Brill has taught at Barry University as a clinical faculty member in the School of Podiatric Medicine since 1997 and currently holds the rank of Professor of Podiatric Surgery in the School of Podiatric Medicine. She also serves on the American Board of Foot and Ankle Surgeons Case Review Committee where, with other experts in the field of podiatric surgery, she verifies the competency of other surgeons applying for board certification.
In addition to her role at Barry University, Dr. Brill works as the Chief of the Podiatric Surgery Department at Jackson North Medical Center, where she is an active staff member and serves as the Director of Residency Training for the Podiatric Medicine and Surgery Residency with Reconstructive Rearfoot and Ankle Surgery.
In addition, she enjoys giving back to her community and providing podiatric services to the underserved at various community service events, including volunteering as a clinical director for the Special Olympics Fit Feet programs. Dr. Brill has lectured at many professional meetings on various podiatric topics, including recounting her experiences in Haiti with the University of Miami's Project MediShare. There, just days after the devastating earthquake in 2010, she, along with many other volunteers, provided medical services to the victims in a tent hospital outside the airport in Port-au-Prince. Dr. Brill is fluent in both French and English.