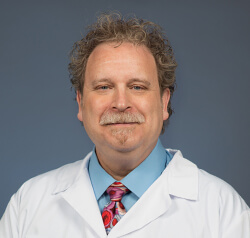 Dr. Howard Petusevsky received his Bachelor of Science degree in Biology from Syracuse University in 1980 and received his Doctor of Podiatric Medicine degree in 1985 from the New York College of Podiatric Medicine in Manhattan. He completed his training by obtaining a New York College of Podiatric Medicine Preceptorship in Medicine and Surgery in Monticello New York. Dr. Petusevsky went on to complete a two-year wound care fellowship with Dr. Robert Snyder at the Wound Care Center at University Hospital.
Dr. Petusevsky is board certified by the American Board of Podiatric Medicine. He frequently lectures nationally on topics including; diabetic foot care, wound care, and amputation prevention. He has co-authored a chapter in the textbook, Wound Healing Evidence-based Management.
On a personal note, Dr. Petusevsky was a founding member of an improvisational comedy troupe in South Florida. He credits this experience with enriching his practice and benefitting his patients on a daily basis. Dr. Petusevsky was affiliated with the orthopedic department of the Cleveland Clinic. He has been in private practice for over 33 years and has joined the faculty of Barry University in 2020.