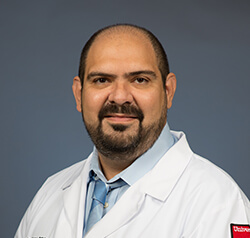 Dr. Enrique L. Rosario Aloma received his Bachelor of Arts in Chemistry with a concentration in Biochemistry and a minor in both Physics and Biology from Florida International University. He then attended Georgetown University where he received his Doctor of Philosophy in Molecular Biology. He started his teaching career at Nova Southeastern University as an Adjunct Professor of Genetics.
He completed his Doctor of Podiatric Medicine degree from Barry University and performed his postgraduate work through Barry University's Mercy Hospital Foot and Ankle Residency Program where he served as resident physician and chief resident.
Dr. Rosario Aloma started working at Barry University School of Podiatric Medicine as Adjunct Professor of Immunology and Microbiology. He is now Assistant Professor at the Barry University School of Podiatric Medicine, Foot and Ankle Institute. He has been published multiple times in Podiatry Institute. His current research, in collaboration with colleague Dr. Luis Rodriguez, is in the field of regenerative medicine and stem cell therapies.