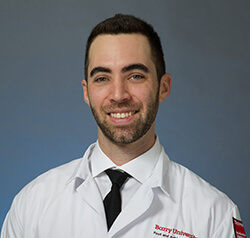 Dr. Daniel Stewart is a native of Miami, FL, who graduated from the University of Florida in Gainesville, with a bachelor of science in human nutrition. In 2017, he received his Doctor of Podiatric Medicine from Barry University's School of Podiatric Medicine. He completed his three year residency at Mercy Hospital in Miami, FL. In 2021, he was honored with a sports medicine fellowship allowing him to work with the Miami Heat of the National Basketball Association and Inter Miami CF of Major League Soccer.
Dr. Stewart is an assistant professor at Barry University who focuses on biomechanics and has served as a guest lecturer in podiatric surgery. He is currently board certified by the American Board of Podiatric Medicine, as well as a fellow of the American Academy of Podiatric Sports Medicine with a certificate of added qualification in podiatric sports medicine, and an associate of the American College of Foot and Ankle Surgeons. He is certified in minimally invasive surgery including bunion surgery, and total ankle reconstruction as well as trained in aesthetic medicine. He is also a specialist in foot and ankle trauma surgery, Charcot reconstruction, wound care, and limb salvage with internal and external fixation.
In addition to his love of sports medicine, Dr. Stewart is passionate about volunteer service. He has taken part in mission trips to Mexico with the Yucatan Crippled Children's Project since 2017 where he served as chief resident. He also has written for journals about biomechanics and sports podiatry. He is fluent in both English and Spanish.