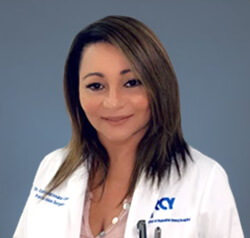 Dr. Cynthia Marzouka-Losito received her Doctor of Podiatric Medicine at the Barry University School of Podiatric Medicine in 1997. She is currently completing a dual Masters' Degree in Health Services Administration and Public Health at Barry University and is set to graduate in December 2020.
She started working as a Podiatric Physician in 2012 and prior to that has extensive experience as a Medical Director with expertise in healthcare management. She has more than 19 years of experience in clinical and non-clinical roles.
Dr. Marzouka-Losito is a Board-Certified Member of the American Board of Podiatric Medicine and Podiatric Orthopedics. She is a Diplomate of the American Board of Podiatric Medicine, an active member of WHEN Women's Healthcare Executive Network, on the Board of Directors at Barry University Alumni Association, and has been a keynote speaker for the Arthritis Foundation at South Miami Hospital. She received an award for her many years of leadership as a physician by the American Association for Women Podiatrists in 2019.
The doctor has also been volunteering as a missionary in Haiti since 1998, delivering medical and surgical care to individuals and promoting women's health in Cap-Haitien and Port Au Prince.