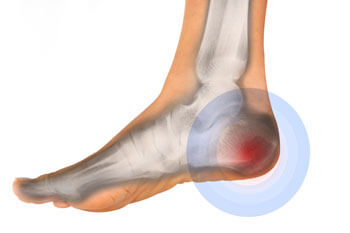 Heel pain, while quite common, can be extremely uncomfortable and painful if not met with proper care or treatment. Heel pain may be a related injury but more often it is related to abnormal gait and foot type. If left untreated, heel pain can worsen often limiting your mobility and making it difficult to even perform everyday activities. Furthermore, if left untreated may require surgical intervention.
There are many different causes of heel pain, including but not limited to strains or sprains, plantar fasciitis, nerve entrapment, stress fractures, Achilles tendonitis/tear, and heel bursitis. One of the most common causes of heel pain for children and teenagers specifically is Sever's disease. Sever's disease can develop due to overuse or repetitive microtrauma of the heel bone's growth plates. This condition is often seen among those who are active in sporting activities.
Additionally, more serious conditions associated with heel pain may include issues with poor circulation, bone and soft tissue tumors, and various rheumatologically conditions. If you're experiencing heel pain, we recommend you consult with one of our podiatrists as soon as possible for a proper diagnosis and treatment plan.
Contact our podiatry office for appointment.
Barry University Foot and Ankle Institute Medical Disclaimer