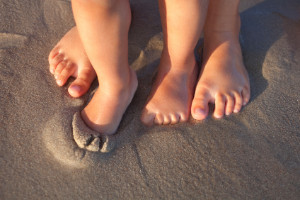 As toddlers are learning to walk, their gait may be characterized as duck-footed, or out-toeing. This happens when they walk with their toes pointing outward rather than forward. In many children, this way of walking is temporary. A child will often outgrow this by age six to eight years of age. However, sometimes it can persist into adolescence, or even adulthood, and can lead to more serious complications. Out-toeing is a type of torsional deformity and usually occurs when one of the leg's two longest bones (the tibia, located between the knee and ankle, and the femur, located between the hip and knee) turn towards the outside of the leg, causing the foot to jut out. This condition can occur in one or both legs. Most often, the child does not experience pain or discomfort with this condition, and it does not affect their mobility. Parents might see that their kid's shoes wear out or have more obvious scuff marks on the outer edges of the shoes if the child is duck-footed. Causes of out-toeing include genetics, fetal position of the legs in the uterus prior to birth, the resting position of the legs during infancy, and being flat-footed. Rarer reasons for this condition are congenital bone deformity or a hip condition, called slipped capital femoral epiphysis, that causes the ball at the top of the femur to slip backwards. If you are concerned about your child's gait or you notice that they are experiencing pain, imbalance, or instability when walking, see a podiatrist who can alleviate your concerns or provide treatment options to consider.
Making sure that your children maintain good foot health is very important as they grow. If you have any questions, contact one of our podiatrists of Barry University Foot and Ankle Institute. Our doctors can provide the care you need to keep you pain-free and on your feet.
Keeping Children's Feet Healthy
Having healthy feet during childhood can help prevent medical problems later in life, namely in the back and legs. As children grow, their feet require different types of care. Here are some things to consider...
Although babies do not walk yet, it is still very important to take care of their feet.
Avoid putting tight shoes or socks on his or her feet.
Allow the baby to stretch and kick his or her feet to feel comfortable.
As a toddler, kids are now on the move and begin to develop differently. At this age, toddlers are getting a feel for walking, so don't be alarmed if your toddler is unsteady or 'walks funny'. 
As your child gets older, it is important to teach them how to take care of their feet.
Show them proper hygiene to prevent infections such as fungus.
Be watchful for any pain or injury.
Have all injuries checked by a doctor as soon as possible.
Comfortable, protective shoes should always be worn, especially at play.
If you have any questions please feel free to contact our offices located in Miami, North Miami Beach, Miami Beach, and Tamarac, FL . We offer the newest diagnostic and treatment technologies for all your foot and ankle needs.
Read more about How to Care for Your Child's Feet