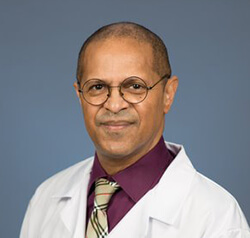 Dr. Albert Armstrong attended the University of Colorado in Boulder and Midwestern State University in Texas, where he received a Bachelor of Science in Radiology. He spent eight years in the United States Air Force working in different areas of the country and in Southeast Asia as a radiology technologist, CT technologist, interventional technologist, and Radiology Quality Control Officer.
He received his Master of Science in Biomedical Sciences and his Doctor of Podiatric Medicine degrees from Barry University. He completed his residency at Mount Sinai Medical Center in Miami Beach, FL. Dr. Armstrong, who is internationally known for his work in radiology and imaging of the foot and ankle, was appointed Assistant Professor of Radiology at Barry University in 2003.
He regularly presents at conferences, publishes in scientific journals, and is frequently invited to speak at professional meetings in the US, Canada, and Europe. He served as Associate Professor of Radiology and Dean at Barry University School of Podiatric Medicine from 2014 to 2019. He is now Professor of Radiology and Medical Director of Advanced Imaging at the Barry University School of Podiatric Medicine, Foot and Ankle Institute.