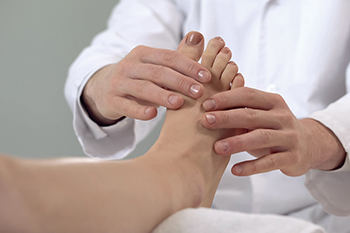 Drop foot is caused by an inability to lift the foot enough to clear the ground as you take a step. It results in a shuffling or dragging type of gait. To counteract that, a person tends to over-lift the knees on each step, resembling a marching gait. Experts find that drop foot is usually a sign that something else is wrong. Causes may be anatomical, muscular, or neurological. Nerve injury, such as damage to the peroneal nerve, is a common cause of drop foot. Symptoms are pain and numbness. It may be brought on by a sports injury, childbirth, or sitting with your legs crossed for a long time. Certain muscle disorders like muscular dystrophy may also be the cause. Electronic imaging tests can be used to detect the underlying cause behind drop foot and treatment options depend on the source of the problem. Many find that custom orthotics, light braces, nerve stimulation, and possible surgery can be helpful. For more information on drop foot and how it may be treated, please consult a podiatrist. 
If you have any concerns about your feet, contact one of our podiatrists from Barry University Foot and Ankle Institute. Our doctors can provide the care you need to keep you pain-free and on your feet.
Biomechanics in Podiatry
Podiatric biomechanics is a particular sector of specialty podiatry with licensed practitioners who are trained to diagnose and treat conditions affecting the foot, ankle and lower leg. Biomechanics deals with the forces that act against the body, causing an interference with the biological structures. It focuses on the movement of the ankle, the foot and the forces that interact with them.
A History of Biomechanics
Biomechanics dates back to the BC era in Egypt where evidence of professional foot care has been recorded.
In 1974, biomechanics gained a higher profile from the studies of Merton Root, who claimed that by changing or controlling the forces between the ankle and the foot, corrections or conditions could be implemented to gain strength and coordination in the area.
Modern technological improvements are based on past theories and therapeutic processes that provide a better understanding of podiatric concepts for biomechanics. Computers can provide accurate information about the forces and patterns of the feet and lower legs.
Understanding biomechanics of the feet can help improve and eliminate pain, stopping further stress to the foot.
If you have any questions please feel free to contact our offices located in Miami, North Miami Beach, Miami Beach, and Tamarac, FL . We offer the newest diagnostic and treatment technologies for all your foot and ankle needs.
Read more about Biomechanics in Podiatry