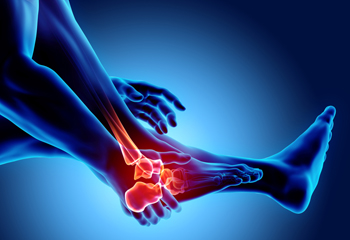 While it can be difficult to watch someone you care about suffer with rheumatoid arthritis, there are some things you can do that may help them deal with their illness and possibly even reduce pain in their feet and ankles. Try to reduce the swelling in your loved one's joints with progressive relaxation—a technique where the muscles are tensed and then relaxed, working up from the feet. Their pain from swollen joints can also sometimes be eased by icing them with an ice pack or even a bag of frozen peas which conform to the joint's shape. Help your loved one choose the right foods to maintain a healthy body weight to reduce the amount of pressure put on the joints of the feet, hips, and knees. You can also schedule an appointment for your loved one with a podiatrist for an exam, and to discuss if doing certain physical activities like tai chi, yoga, aqua therapy, or walking may help to strengthen their muscles and reduce their pain.
Because RA affects more than just your joints, including the joints in your feet and ankles, it is important to seek early diagnosis from your podiatrist if you feel like the pain in your feet might be caused by RA. For more information, contact one of our podiatrists of Barry University Foot and Ankle Institute. Our doctors will assist you with all of your podiatric concerns.
What Is Rheumatoid Arthritis?
Rheumatoid Arthritis (RA) is an autoimmune disorder in which the body's own immune system attacks the membranes surrounding the joints. Inflammation of the lining and eventually the destruction of the joint's cartilage and bone occur, causing severe pain and immobility.
Rheumatoid Arthritis of the Feet
Although RA usually attacks multiple bones and joints throughout the entire body, almost 90 percent of cases result in pain in the foot or ankle area.
Symptoms
Swelling and pain in the feet
Stiffness in the feet
Pain on the ball or sole of feet
Joint shift and deformation
Diagnosis
Quick diagnosis of RA in the feet is important so that the podiatrist can treat the area effectively. Your doctor will ask you about your medical history, occupation, and lifestyle to determine the origin of the condition. Rheumatoid Factor tests help to determine if someone is affected by the disease.
If you have any questions please feel free to contact our offices located in Miami, North Miami Beach, Miami Beach, and Tamarac, FL . We offer the newest diagnostic and treatment technologies for all your foot and ankle needs.
Read more about Rheumatoid Arthritis in the Feet